A Cappella for Everyone
Group classes are the best way for you to get involved in a cappella group singing with PDX Vox. Groups meet for 13 weeks and learn 5–6 songs together, and then celebrate with a performance at the end of the semester.
Click the gold button to select your group and register for our next semester!
Not sure? Attend a free class!
Sit in on a class to get a feel of the experience before committing, free of charge. Just click below to arrange a visit!
Southeast Portland: Moreland
Moreland Presbyterian Church
1814 SE Bybee Blvd., Rm 225, Portland
MONDAY mixed GROUP
Sept 16th - Dec 16th No class on November 25th
6:45–8:45pm A little earlier than the other groups
Southeast Portland: Hawthorne
Colonial Heights Presbyterian Church
2828 SE Stephens St.
MONDAY MIXED GROUP (FULL)
Sept 16th - Dec 16th No class on November 25th
7–9pm
Northeast Portland
Central Lutheran Church
1820 NE 21st Ave.
MONDAY HARMONIC CHALLENGE GROUP (FULL)
This group is for singers who are looking for a higher commitment and additional challenge. The ability to attend every rehearsal, learn parts independently, read music, and hold your own part against neighboring parts are all recommended skills.
Sept 16th - Dec 16th No class on November 25th
7–9pm

TUESDAY MIXED GROUP
Sept 17th - Dec 17th No class on November 26th
7–9pm

WEDNESDAY MIXED GROUP
Sept 18th - Dec 18th No class on November 27th
7–9pm
Southwest Portland
St. Andrews Presbyterian Church
3228 SW Sunset Blvd. (@ Dosch)
THURSDAY MIXED GROUP
Sept 19th - Dec 19th No class on November 28th
7–9pm
Next Opportunity to Join +
New groups form in September and February. The next round of groups will begin the week of September 16th, with the all-group retreat scheduled for Saturday, Sept 21st.
Tuition and Payment +
Cost is $320 per semester. Tuition for the semester is generally paid at the beginning of the semester, but you can opt to pay in 4 monthly installments by sending us an email. If you decide to drop out after the first class, you'll receive a full tuition refund. After this, there are no refunds, nor are there refunds for missed classes.
Scholarships +
A few scholarships are available each semester, for amounts up to $160. To apply, please submit an email briefly describing your financial situation and why you would like the scholarship.
sign up by mail +
If you'd prefer to register by mail, please download and complete the Registration form, and send the completed form along with payment to:
PDX Vox
2504 SE Taylor St.
Portland, OR 97214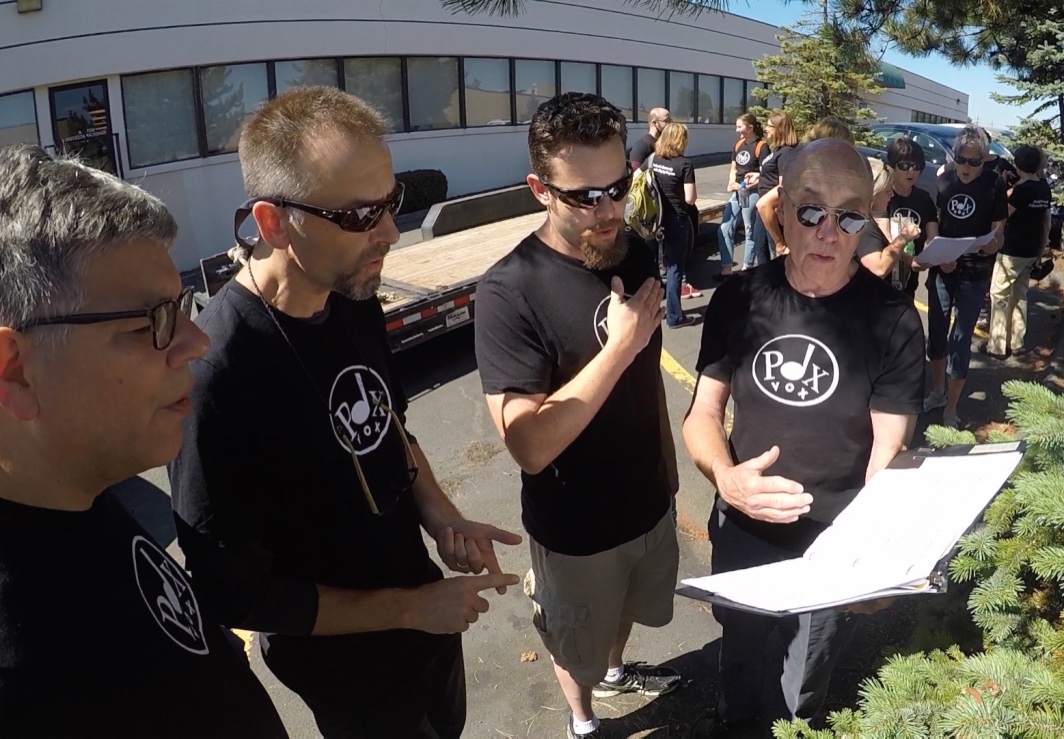 "Singing a variety of interesting, fun, powerful, and meaningful songs with this wonderful group brings me joy and enriches my life."
— Andrea C., Monday group